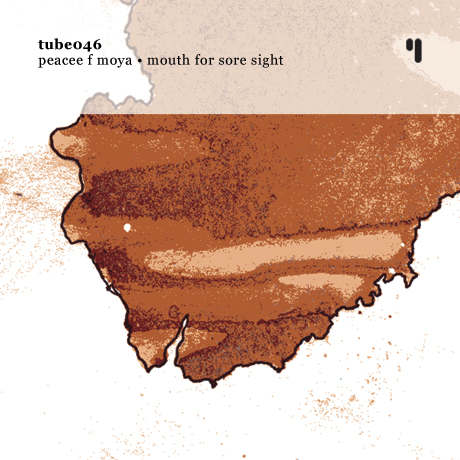 Runtime: 30'58''

«First of all, Frango were born: a free-rock trio from Barreiro - south bank of the Tagus river -, keen on unaligned electric improvisations, that got some credit among the new generation of underground Portuguese music of the 21st century. Then, the attention first gathered around the trio, passed on to Rui Pedro Dâmaso, one of Frango guitar players who revealed himself in his solo outfit "PCF Moya". On the first recording "Surgeon Surgeon" (2005, Searching Records), circles of improvised guitar sounds are sketched and notes are lost inside maze-like paths or simple spirals. On the second release "Untitled / God Slot EP" (2006, Merzbau), the atmosphere is denser and shapes are fuzzier, one suspects a more rigorous creation process, the guitar is sparser, the approach is not so direct. Now, on this new "Mouth for Sore Sight", Dâmaso shows us a different path. The guitar isn't there anymore, now there's only effect pedals and tweaked mikes. To emphasize this difference, the artist name is slightly mutated: "Peacee F Moya".
Moved away from the untied notes which were characteristic of his previews works, "Mouth for Sore Sight" divides itself into two long tracks ["Four" and "Three (Exodic)"], two creation places that grow as they absorb small elements along the way. Here the work is all about the progressive adding of elements which sustain some immense spiral stairs made of sound. In the end, all that remains is an almost ghost-like ambience feel: almost, almost whispered slow-motion post-rock, Peacee F Moya is uncompromised freedom in permanent construction. "Lo-Fi isn't an aesthetic statement, it's the logical result of a somewhat disorganized working method", Dâmaso once said. If disorder is in some way responsible for the creation of these unsuspected droopy textures, then let the world abandon once and for all that yuppie thing about organization.»
- Nuno Catarino
Downloads:
01
• Four .........................................................................................
pt
us
[11'07'' • 15,2Mb • 192Kbps]
02
• Three (Exodic) .........................................................................
pt
us
[19'51'' • 27,2Mb • 192Kbps]
• artwork ...................................................................................
pt
us
[PDF-Zip • 2,24Mb]
• all tracks + artwork ................................................................
pt
us
[Zip • 43,8Mb]
Reviews:

«Is it a deafening whisper? Why does suddenly air in the room growing in density and thickness - chamanic mantras in an industrial complex of wadding, felt and lead in fusion, Peacee F Moya takes you in a ballet, whose mechanism seems to have a curious tendency to leave in a dangerous inflationary spiral - the loss of control is inevitable and do not seek especially to hang to you to some illusory accent of flattering trumpet. But here now we are in the center of a "three exodic", second act of a a ceremony whose central topic is to be played of our "doors of perception" - it just remains to be known if we are player in this open mouth for sore sight.»
- Thierry Massard / August 26, 2006

«Voici une 46e sortie de Test Tube qui me fait tout de suite penser aux premières expérimentations krautrock. Musique pour le moins évolutive que celle de Peacee F Moya (PCF Moya). Une rythmique cardiaque sur laquelle se greffent boucles vocales, nappes "radiophoniques", ondes sourdes, effets organiques, cordes électriques dans leur plus simple tenue. C'est tout simplement amondüülesque, mais au ralenti quand même.»
- LaFresto / August 15, 2006

«Assim, em jeito de bofetada... Rui Dâmaso, o homem por detrás de PCF Moya ou Peacee F Moya (também elemento dos Frango), acaba de lançar o seu terceiro registo, este pela netlabel Test Tube. Depois de "Surgeon Surgeon" lançado em 2005 pela Searching Records, "Untitled / God Slot EP" lançado gratuitamente em 2006 pela Merzbau, chegou agora a vez de "Mouth for Sore Sight", um mergulho de cabeça no mundo do ruído, dos efeitos, na forma alongada e criativa de manipular o som...30 minutos em duas faixas.
Novas e boas experiências...»
- A Trompa / August 14, 2006
---
Player:
Get the Flash Player to see this player.
---
Copyleft:



cover:
©2006 Bruno Costa
©2006 aeriola::behaviour
music:
©2006 Peacee F Moya
©2006 test tube


This work is licensed under a
Creative Commons License.

---
How to download music tracks:

• right click the individual links to the files;
• choose 'save as' and point it to the place of your preference (eg: your 'desktop');
• single click usually works, too.
---
How to play music tracks:



• choose an appropriate mp3/ogg player (we recommend Winamp) and install it on your system;
• usually, you double click the music files to play them, but you might want to follow the program's specific instructions.